Each year the USHWA-Florida chapter board of directors sets the venue for its annual Awards Banquet and invites nominations from all directors for human and equine Hall of Fame and for its important awards to trainers, drivers, and breeders who favorably impact Standardbred breeding, development and racing in the state and beyond. Each nominee is reviewed by the directors and Hall of Fame nominees are subject to vote by all directors.Other award nominees are reviewed and subject to board approval. The Awards Banquet is normally held in South Florida after the national USHWA Dan Patch Awards Banquet, and before trainers that develop and condition their stock for the northern states stakes program depart for those racetracks and training centers. Below (by link) is information about the 2020 Awards Banquet and the new Hall of Fame inductees. Below also are the names of historical Hall of Fame inductees and profiles of the 2018 elected Hall of Fame and Communicators inductees.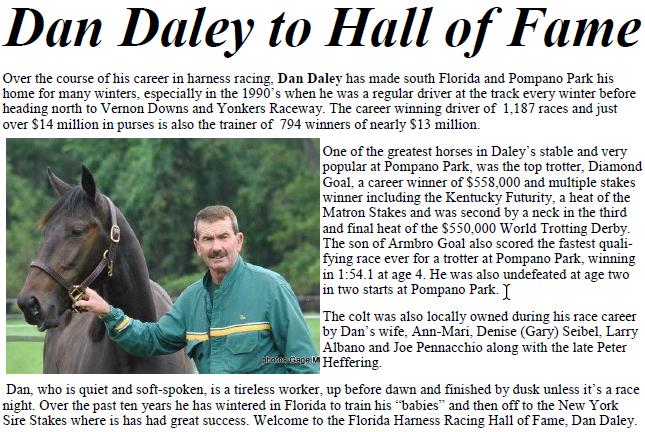 Steven_Wolf_-_2013_Hall_of_Fame_Communicators_Corner_-_Banquet_Pics_076.JPG
2020 Awards Presentation Release and Flyer
The current Hall of Fame chart that includes all recent inducteesncan be accessed by clicking on the Download File Now indicator.